Surfacing Solutions for The Daily Mile™

In recent years, the government and schools have been keen to get children up and moving more. It has been scientifically proven to have multiple benefits if children are more active and run a mile each day. This is why The Daily Mile scheme has been such a great success up and down the UK. Here at Swift Surfacing Ltd, we are a keen supporter of the scheme. This is why we can help your school get ready for the mile with the installation of a high-quality mile track. We offer this service in a variety of different surface options so that you are able to choose the perfect one for your school. If you'd like to learn more about our surfacing contractor services, please call us on 01233 840088.
More About 'The Daily Mile'
What is 'The Daily Mile'?
The Daily Mile is an initiative brought into the schools and education providers to get children moving to improve their physical, social, emotional and general wellbeing. The initiative involves getting school children during school hours to run or jog for 15 minutes. It is designed to be easy to organise and to undertake, with no uniform changes or staff training required. Schools up and down the UK have already taken on The Daily Mile with great success from it.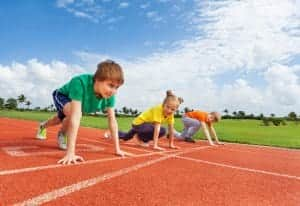 Why should my school do 'The Daily Mile'?
There are numerous benefits to implementing The Daily Mile in your school and encouraging children to be more active, with very little effort. The main benefits include:
Making children aware of their health and well being. It, therefore, allows them to take control of what they do to improve it. They are able to run at their own pace and make their own decisions on how hard they work.

Improves body composition. Children's bone density, muscle strength and all-round cardiovascular health is greatly improved and strengthened

Lowers and maintains weight. Childhood obesity is currently at an all-time high. Regular exercise, including low-intensity exercises such as running, all can benefit children to lowering and achieving a healthy body weight.

Enjoyment. Children love the competitivity of it and the freedom just to run, plus the encouragement received from their friends and teachers.

100% inclusive. Due to the simplicity of it, any child can get involved and complete their 15 minutes. This again boosts morale and strengthens them as friends to encourage one another. Over the past few years that The Daily Mile has been on, schools involved are seeing more and more children enjoy the run and ask to do it more often.

Improves concentration. The Friday afternoon slump is a common occurrence for adults and children alike. Having both the students and teachers run around for 15 minutes outside in the fresh air can boost their concentration and make their learning grounded.

Easy to organise. With only a requirement of 15 minutes each day, it is an easy task to undertake. Teachers are able to usher children out and guide them on the route. The next step is for the children to run, this only requires a little encouragement.
What do I do for 'The Daily Mile'?
The Daily Mile is an easy event to put on. It is recommended that it runs every school day, however, it can also be a weekly or less frequent event that is undertaken. In a school assembly, tell the children on the exciting new programme that you are making to get them all excited about it – the first one can be difficult to convince children to get involved in. On the chosen day of the event, take groups of children to the chosen area for the run. These group sizes can be anywhere from 10 children to 50 children. Have 1 or 2 teachers stand at the end to guide the children after they have finished, with teachers dotted around the route, or even taking on the mile themselves! This means that, if children do go off track or fall behind and need encouragement, they are there to push them on and get them to the finish line. Give the children guidance on the route and reassure them that it is not a race and that they should try their best. To build excitement, you can play some music or sing with the children before and during the run duration.
What do I need for 'The Daily Mile'?
The Daily Mile is 100% inclusive – every child, every day. It is not just for larger schools with running tracks, every school can succeed at The Daily Mile. All you need is a flat, risk assessed area for your children to run around. All you need is a flat, risk assessed area for your children to run around. This can be a long path, playing field or a track, which could be looped to enable to children to run multiple laps so there is no 'winner' or 'loser'. Swift Surfacing Ltd can offer solutions towards a running track suitable for The Daily Mile, however this is not a requirement of The Daily Mile Foundation's programme.
The Surface Types That We Offer
As a trusted and fully qualified surfacing contract, we are able to provide our customers with a high quality, durable and long-lasting surface for their needs. Our team are able to visit your property and provide you with advice on which surface would be best for your requirements. They can also provide you with a FREE quote to complete the work. If your school is looking to take part in The Daily Mile, we recommend the following from our surfacing services:
School Playground Surfacing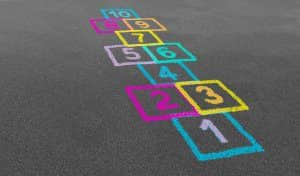 Swift Surfacing Ltd have been surfacing school playgrounds for over 25 years. In this time, our surface materials and equipment have changed and improved so that we can guarantee a high quality and long-lasting playground. Our team are able to design, plan, construct and undertake regular servicing of the playground surface so you don't have to worry about a thing. We are also able to draw on fun and educational playground markings, such as hopscotch and sports pitches. This type of surface is perfect for both large-scale areas such as entire playgrounds and smaller-scale areas such as sensory areas. Our team are all experienced in playground surfacing and use the highest range equipment so that you don't have to worry about accessibility for machines or any minimum costings.
Coloured Surfacing (Asphalt)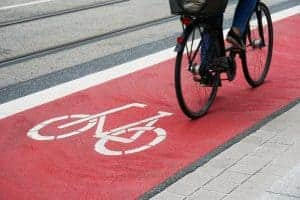 Similarly to our sport surface (also known as MUGA surface), our colour asphalt surface is available in a wide variety of colours and can provide you with a strong surface for activities such as running, cycling or pedestrian walkways. It is a more costly surface but can greatly improve the aesthetics of any outdoor area due to it's bold and bright colours.
Thermoplastic Markings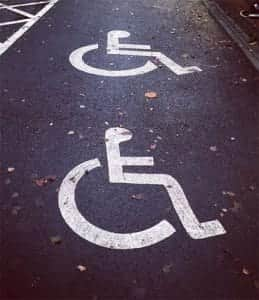 As one of our additional surfaces, we are also able to lay down thermoplastic markings. These markings allow you to decorate your surface or add instructions to any surface, such as parking bays, crossings or general floor graphics. We highly recommend having thermoplastic markings on your surface as they can add colour to your plain school playground and make the area safer for children to be on. What's more is that they are practical all year round and won't become a skid risk or slippery when wet or icy.
If you're interested in getting your school involved and participating in The Daily Mile, click here for more information. Similarly, call our team at Swift Surfacing Ltd. They have highly experienced and have all of the know-how to walk you through what it is exactly that you need to do to get your pupils healthier and happier by running a mile every day. They will also advise you on the best surface for your school and can visit your school to provide you with a FREE quote of work. Call our team today on 01233 840088 to learn more and to inquire about our surfacing solutions.