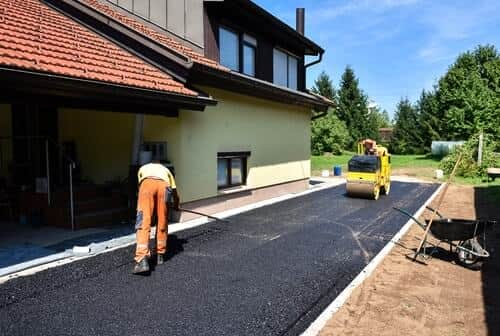 Tarmac Driveways
About Tarmac Driveways
Tarmac is one of the most popular materials used for driveways. This is because it is affordable and strong. It also has an attractive finish. We definitely recommend considering tarmac for your new or refurbished driveway. A good quality, professional looking driveway can increase the value of your property. This is one of the reasons why it would be wiser to hire a company with expertise and experience to complete the driveway for you instead of trying to do it yourself. To find out about Swift Surfacings' driveway service, please visit our tarmac driveways page or call a member of the team on 01233 885949.
What Is a Tarmac Driveway?
Tarmac is an affordable material that can be applied to a variety of surfaces such as driveways, sports surfaces, and playgrounds. The material is easy to maintain and capable of lasting for several years. Also, any damage caused to a tarmac surface can be easily repaired by putting a new layer over the existing tarmac. Tarmacadam is a process binding together smaller aggregate as pioneered by the legendary Jon MacAdam in the 19th century. His work resulted in the development of tar-based macadam's which became abbreviated to Tarmac. Nowadays we use bitumen from the oil industry rather than naturally occurring tar and therefore we now have bitumen macadam.

Do Tarmac Driveways Last?
Tarmac Driveways are a popular choice because of their durability. They are also easy to update because existing tarmac driveways can be overlaid with a new wearing course. This is less disruptive than replacing your whole driveway and is more economical. Swift Surfacing offers a fully comprehensive surfacing package ranging from minor patch repairs, a resurfacing, and a full construction.
How Much Do Tarmac Driveways Cost?
At Swift Surfacing Ltd we offer a quality tarmac driveways service without compromising the price. For an estimate of how much a new driveway will cost, contact one of our helpful team on 01233 885916 or email us at estimated@swiftsurfacing.co.uk. As part of our driveway resurfacing service, we offer a free initial visit and no obligation quotation, to determine whether a new tarmac driveway is right for you and your property.
How To Clean Tarmac Driveways?
To clean your tarmac driveway we recommend starting by cutting out any weeds. If your driveway has not be resurfaced for some time, some tarmac pieces may have become loose. Remove all these pieces. Oil stains can be removed with an oil remover suitable to the tarmac. You may need to ask the manufacturer for advice on a suitable oil remover. Once this process is complete, wash your driveway with water, pouring it gently not with force across the surface. Then leave to dry naturally.   
Tarmac Driveway Repairs and Maintenance
When you look after and take care of your driveway, not only does it protect your investment and keep your driveway looking good, but it also keeps you from needing a complete replacement for a longer period of time. The more you maintenance you carry out the easier the maintenance work will be and your driveway will be prepared for any severe weather conditions. You can keep it clean with a gentle sweep and wash it with a hose pipe or throwing water gently over it.
How To Improve your Tarmac Driveway?
Your tarmac driveway does not have to be plain and dull. At Swift Surfacing, we offer a range of decorative edgings and features for you to personalise the design of your driveway. You can also choose from an array of colours, not limited to black or grey, making your driveway really stand out or complement the rest of your house.
Tarmac Driveway Drainage
If your driveway requires drainage, this will be laid and connected to remove surface water. If the drive slopes in towards a building, this can cause damp and flooding issues. Tarmac should always be laid at a gradient because, without this, rainwater, snow and melting ice has no way to drain off it and becomes pooled water. This would damage the tarmac quickly. The same occurs when cleaning your driveway. Without sufficient drainage gradients, the cleaning liquids stay on and can corrode the tarmac surface. The gradient is not always obvious. Often driveways which appear to look flat are actually laid at a slight gradient.
Where to Buy Tarmac Driveway?
There are several reasons why you should choose Swift Surfacing to tarmac your driveway. Swift Surfacing Ltd provides an unbeatable service. We are experts in driveway surfacing, offering high-quality tarmac driveway solutions that last. Since 1991, Swift Surfacing Ltd has been delivering quality surfacing solutions across London and the South East to the highest industry standard. Our stellar reputation is just one of the things that make our clients return to us again and again. Contact our team for advice or to get a free estimate for our driveway resurfacing service.
Tarmac Driveway Locations
At swift Surfacing Ltd., we offer our tarmac driveway service in Ashford, Maidstone, Canterbury, Tunbridge Wells and Bromley. If you have any questions which we have not answered, please fill out an enquiry form or contact our Kent office on 01233 885949.
Laurence is a content writer and marketing manager for Swift Surfacing. He helps publish regular content and insights for customers and industry personnel.