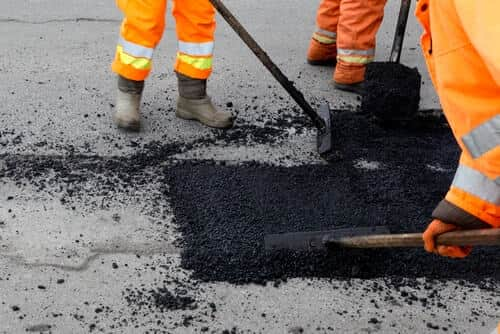 Potholes Kent
What Causes Potholes Kent?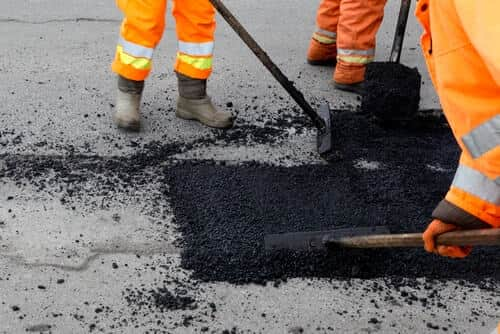 One of the reasons we pay road tax is because it costs money to keep roads in working condition. Using our vehicles regularly across the surface of the road puts a lot of pressure on the road and naturally wears it away. This wear and tear over time eventually lead to dips and cracks in the surface which can cause obstruction to our driving, known as potholes.
The typical British rainy weather is also a leading cause of pothole creation. Lots of rain can take the top layer of the road surface off. When it rains the ground expands and then contracts once the rain has been absorbed and has dried. Potholes are particularly common in the winter months because if the rain freezes it expands and causes potholes. This is why after there has been about of cold weather with ice and snow, lots of potholes appear on our road and in car parks. This is inevitable but there are certain road surface materials which hold up better than others.
Sometimes the conditions of a road or car park can be made worse due to poor maintenance and repairs. Filling a pothole with gravel or simply laying a fresh topping of tarmac over the affected areas will only last for a short period of time and does not solve the issue. The structural problem remains and the only way to amend it is by giving the carpark a completely fresh resurface. Many people opt for the first option to save money but we can assure that it is more cost effective to get your car park resurfaced than to individually fix potholes as they appear. If you do want a quick fix then we do offer an individual pothole fix service as well but we recommend looking into a full road resurface first.
Can Potholes Be Avoided?
Potholes are inevitable because of all the reasons discussed above. However, there are some road surface materials which are more durable than others. The four materials offered by Swift Surfacing Ltd are:
Tarmacadam – This is our most regularly chosen resurfacing material due to the fact that it is the cheapest and quickest to lay, especially in larger surface areas. This material is often referred to as Bituminous macadam (or 'Bitmac' for short).
Hot Rolled Asphalt (HRA) – This material consists of a dense mixture of mineral aggregate, sand, filler and bitumen. Every batch that we produce complies with EN 13108 and the NRA Specification for Road Works. Once compacted during the rolling of HRA, there is very little air which reduces the risk of sections falling off. It is a strong and durable road resurfacing material so makes a good choice.
Stone Mastic Asphalt – This material is dense with a high stone content. Once it has been laid, its appearance is consistent and lowers the amount of noise emitted and water spray produced by vehicles. So if you want to create a pleasant driver experience, then this Stone Mastic Asphalt could be the right choice for you.
Open Graded / Porous Tarmac – This is one of our more advanced materials used in road resurfacing. Its open aggregate structure allows drainage to stop any sitting water and ice that occurs in colder weather. Therefore, this material is the best one for avoiding potholes forming.
What Is The Best Way To Fix A Pothole Kent?
A complete road resurface would be more cost effective than fixing them individually. Individual patch ups are often only a temporary solution as they do not last as long as a full resurfacing. We do offer a patching up service if this is what you require. A patch up service will fill the pothole with asphalt till it is even with the ground. Once the hole has been filled and fully compacted, we apply a small crown to the repair area to allow for additional compaction. This will allow the product to continue to settle once opened to traffic. It is possible to DIY this, however, we strongly advise that you hire professionals to do this for you to ensure the end result is effective in improving the condition of your road. At Swift Surfacing Ltd, regardless of how big or small the repair, we are fully committed to offering superb workmanship and value for money. Contact us today for more information from our experts.
How Do I Report A Pothole Kent?
If there is a pothole on a drive you do regularly (perhaps your drive to work, or to drop your children at school) you probably want to make sure the council is aware that it is there. A pothole that has been reported to the council is more likely to be repaired than those that are not. It is a very simple process to report a pothole to the local authority. All you need to do is visit the gov.uk website page for reporting potholes. It will require that you type in your own postcode (not the postcode of the pothole). Then it will direct you to the relevant county council website. The link will take you straight to the place where you can report the pothole. Alternatively, if you know which county council owns the road, you could go straight to there website and find the correct page yourself. It is likely, that the council will ask you to fill out a form to gather all the information they need. It is best to be as accurate as possible when explaining the location and the nature of the fault in the road as this will make it easier for the council to understand and provide a solution.
Can I Claim Pothole Damage From The Council?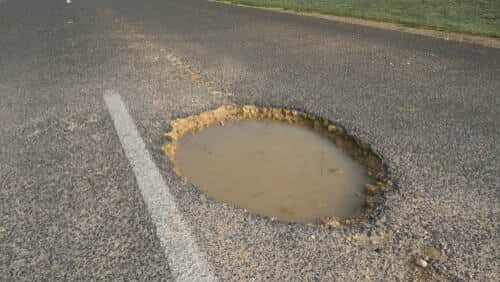 The answer is yes – whoever owns the road (usually the local council) has the legal responsibility to ensure the road is in working condition. However, potholes are inevitable so it is recognised that it's impossible to have them all fixed at any given time. Therefore, you will need to prove that the pothole could and should have been fixed.
According to many councils, in order to count as a pothole, the hole must be at least 40mm deep – about the height of two 20p coins. If the one you hit wasn't that deep you can still claim, but it could be tougher to get anything back. In order to claim for the damage, you'll have to prove the pothole caused it. Your mechanic should be able to put this in writing for you. If your vehicle already had a problem, and the pothole made it worse, you can still claim but you won't get the full repair costs back.
Remember, in reporting a pothole, you're being a good citizen. If the authority was negligent and did not do the checks it should have, claiming for repairs can help put pressure on the authority to keep their roads in as good condition as possible. Equally though, this is taxpayers' money and in the short term claims can put local councils under real pressure, so you'll need to decide for yourself what the right thing to do is.
Swift Surfacing Pothole Service Kent
Our pothole service Kent is the best quality you will find. All the members of Swift Surfacing Ltd team have had many years of experience and have all the expert knowledge they need to offer a truly professional service. Whether you opt for a complete road resurface or individual pothole patch fixes, we are certain you will not be disappointed with the service we carry out. It is also fantastic value for money!! Find out more by contacting us now!
Laurence is a content writer and marketing manager for Swift Surfacing. He helps publish regular content and insights for customers and industry personnel.